What has HPC done for its industrial users so far?
With the help of HPC, an airplane manufacturer managed to save $2 million on inventory and shortened production flow times by 25%, inventory levels assembly by 30% and overtime expenses by 40%. 
 HPC has also made it possible to decrease development time for new vehicle platforms from 60 months to 24. Furthermore, HPC helps autonomous vehicles to predict driving functions and increase passenger safety by avoiding road hazards.
Similarly, faults can be predicted in advance through intelligent analysis of real-time data produced by airplanes. A concrete example from aviation is the Airbus A380, which was designed with the help of HPC simulation.
It carries twice as many passengers at the same noise level, uses less than 3 liters of fuel per person per 100 km and produces less than 75g of CO2 per person per km – an achievement enabled with HPC. You can find EXCELLERAT's success stories.
EXCELLERAT offers cross-cutting support for various engineering sectors, like manufacturing, automotive, energy, aerospace, chemistry, biology and climate, enabling generic application support is a non-trivial task. Within the engineering sector we see specialisation on expertise, applications development, targeted training and offered hardware.
However, all the centres specialise in a single domain within the engineering sector to offer a maximum of expertise in consultancy and training to their direct customers. Within EXCELLERAT the centres will make the best out of sharing their expertise and experiences forming a European Centre of Excellence.
The setup of EXCELLERAT is complementarity to the current setup of each HPC provider/centre. EXCELLERAT will enable enhanced engineering applications and support the community in a way which could not be provided by one single provider.
In more detail, EXCELLERAT is built on four capabilities: Leading edge technology expertise, Business expertise, Established Mechanisms, Application Lifecycle expertise. These four pillars, forming the EXCELLERAT baseline are illustrated in Figure 1.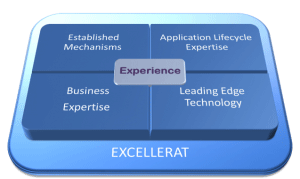 Leading edge technology expertise 
covers both, expertise in 
technologies
 (software and especially hardware) and how to apply them and in addition, how to get access to knowledge if necessary to fulfil certain tasks in HPC. The knowledge on technological changes such as changing architectures, and the ability to get access to them and help to evaluate or improve them further is a key aspect of the centre. Finally ownership of and/or access to (heterogeneous) 
leading edge
technology is a baseline for a successful Centre of Excellence.
Business expertise is a principle activity when moving EXCELLERAT towards a sustainable foundation. Successful business underpinning sustainability will base on the need for developing and providing services on state-of-the-art techniques, that is how the best possible performance for the participants and customers can be fulfilled.

Established Mechanisms refers to the ecosystem already available on the participant's side. This includes established communication channels and mechanisms from experts to customers; support capabilities and organised training for all user communities. These mechanisms may refer to already available practical consultancy for industries, performed by the centre directly or through collaborations with third party companies indirectly.

Application lifecycle expertise and experience is an often forgotten, but mandatory pillar. Experience is of utmost importance to estimate implications of activities, operation models and how to offer designed services efficiently. In particular, experience with applications is key to deliver quality output, especially if timing and precision are mandatory parameters for successful operations.